Tackling IBS Symptoms Through Nutrition – Try This Recipe!
Do digestive issues keep you from enjoying the things you love? Do you find yourself mapping out bathroom locations just in case? Have you ever had dinner and movie plans only to rush home after dinner, missing the movie? How often do you check the menu online before going out with friends, trying to find a safe choice but still feeling nervous while eating?
You might be wondering, 'How does she know?' Well, I understand because I lived this way for many years. I knew all the tricks but rarely made it to the movies!
If you've experienced these challenges, you know I'm talking about digestive issues, particularly Irritable Bowel Syndrome (IBS). This condition can involve diarrhea, constipation, or both, along with gas, bloating, abdominal pain, urgency, anxiety, and depression.
People who suffer from IBS don't appear to have any structural or biochemical abnormalities, which makes diagnosing difficult.
When I wasn't feeling well, I often craved soup broth. Its warmth and gentleness provided soothing relief. At that time, my cooking skills were limited, so I turned to a popular canned chicken noodle brand from my local supermarket. I'd carefully pour the broth into a mug and savor it slowly.
Thanks to my wellness training and The Academy of Culinary Nutrition, I've acquired the skills to craft healing and therapeutic foods. This includes a soothing soup that I wish I had known about back when I relied on canned soup. But I'm pleased to share it with you now. I don't even strain this soup. Instead, I savor every bit, soaking in all the nourishing and healing properties.
In this article, I'll delve into the role of food as a potential trigger for IBS.
Although it is not fully understood, many people have IBS symptoms when they consume food they might be intolerant or sensitive to, like wheat and dairy. Therefore, understanding the difference between food intolerances and sensitivities from food allergies is helpful.
Food allergies tend to hit fast, often within minutes of eating, and can require immediate medical attention. On the flip side, food sensitivities may take 2-3 days to reveal symptoms, making it tricky to pinpoint the culprit. That's where keeping a journal can come in handy – helping you figure out what works and what doesn't.
What works for one may not work for another. 
You know your body best!
When dealing with IBS, there are certain foods that can promote healing, while others can be irritating. However, it's crucial to recognize that what works for one person may not work for another. That's why it's important to use the information I'm providing as a reference. After all, you know your body best!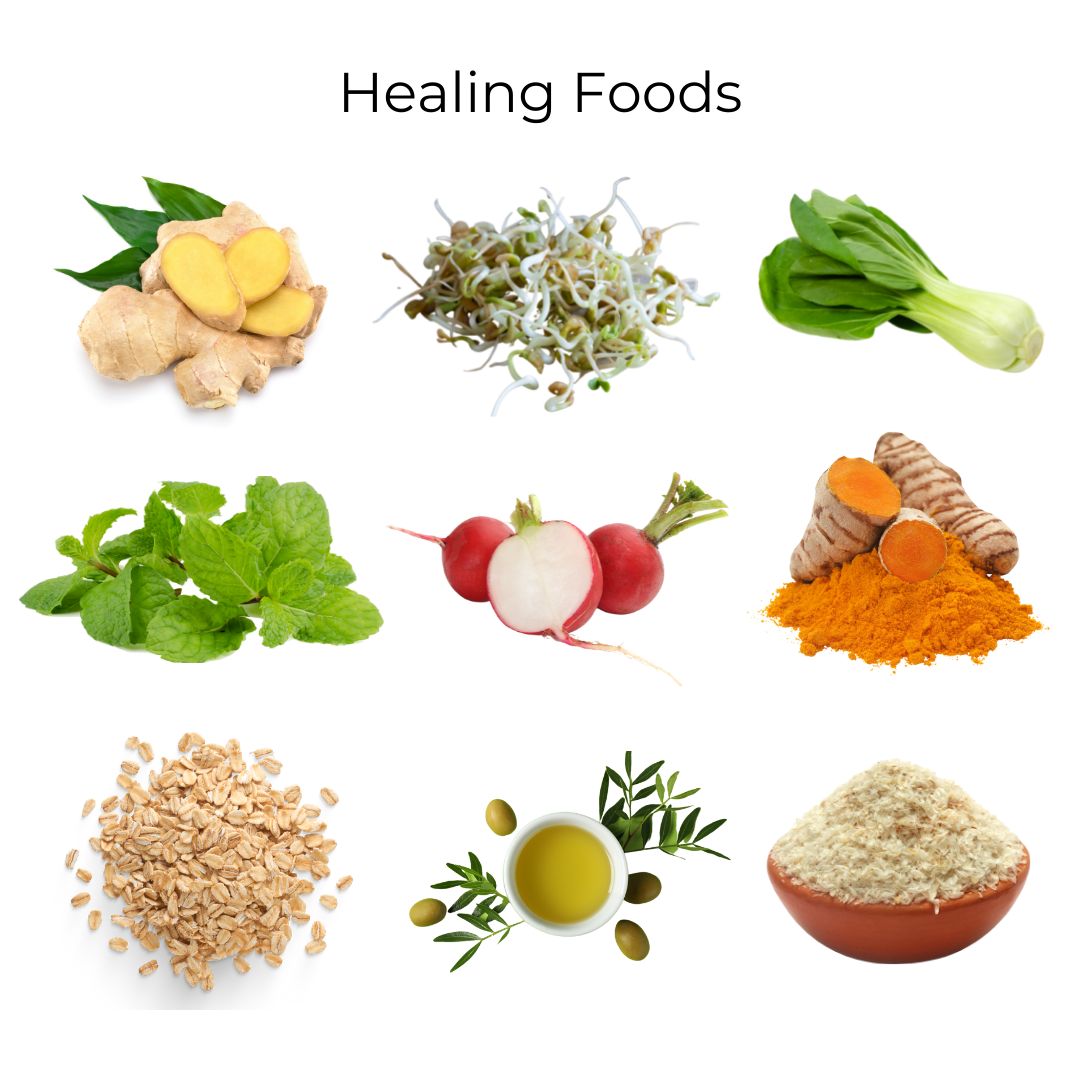 In the image above, you'll find a variety of gut-friendly ingredients, including ginger, sprouts, bok choy, peppermint, radishes, turmeric, oats, olive oil, and psyllium husk. My Gut Healing Chicken Soup is packed with these elements, and here's why:
Extra-Virgin Olive Oil: This healthy fat aids in the absorption of fat-soluble vitamins (A, D, E, and K), essential for gut health.
Ginger Root: Reduces bloating, cramping, gas, and indigestion as an anti-inflammatory.
Turmeric: Rich in curcumin, which offers anti-inflammatory, antioxidant, and anti-depressant effects with direct benefits to the gut.
Bok Choy & Radishes: Substitutes for onion and garlic, reducing discomfort, and rich in fiber for improved bowel movements.
These are just a few of the delicious and gut-healthy ingredients you'll find in my soup.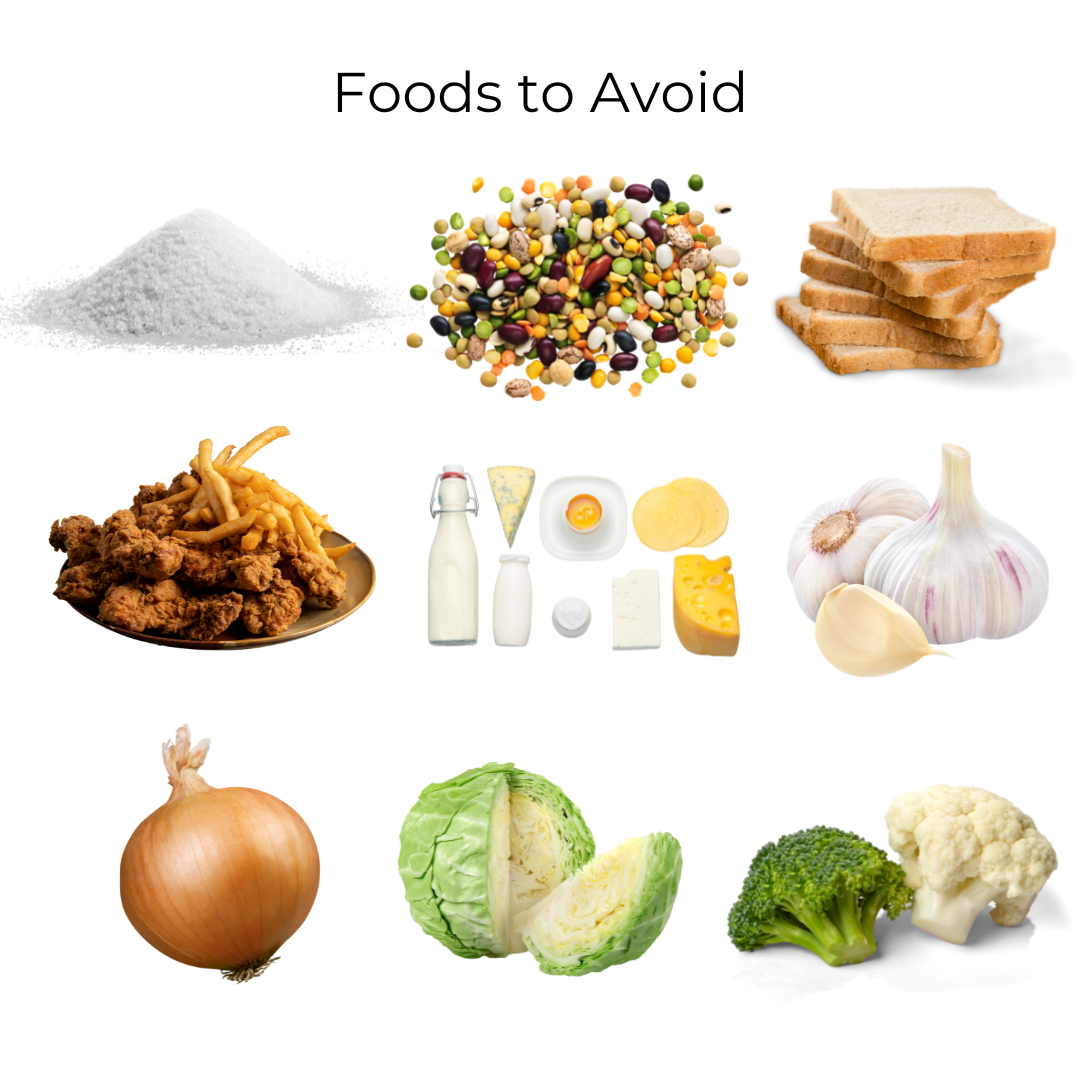 The foods mentioned above can potentially trigger irritation, and you won't find any of them in my Gut Healing Chicken Soup. Let's break it down, starting with sugar.
Sugar and Sugar Substitutes: Ingredients like sucrose, fructose, lactose (found in dairy products), sorbitol, and xylitol are often used as additives and occur naturally in foods like berries, apples, honey, avocados, and cauliflower. Some of these foods are healthy and don't need to be avoided if they agree with you.
Beans & Legumes: Varieties such as baked beans, chickpeas, lentils, and soybeans can cause gas and stomach upset due to their high levels of indigestible saccharides.
Gluten: Found in barley, rye, wheat, malt, and farro, among others, gluten can be problematic for some IBS sufferers, leading to increased symptoms when consumed. Removing gluten has been known to reduce pain, bloating, and anxiety.
Fried Foods: Often cooked with unhealthy oils, fried foods can be challenging to digest, resulting in exacerbated IBS symptoms such as diarrhea and abdominal pain.
While everything pictured above may trigger inflammation, bloating, gas, abdominal cramps, diarrhea, stomach upset, and increased anxiety in some IBS sufferers, it's essential to note that not all these foods are inherently unhealthy. Many, including garlic, onions, cabbage, cauliflower, and broccoli, possess healing properties. This is why finding what works best for YOU is crucial.
When our attempts to nourish our bodies through food result in diarrhea or constipation, it can lead to viewing food as a foe, creating psychological issues like anxiety and depression and even potentially contributing to eating disorders.
Hence, it's vital to exercise caution when restricting food choices. Maintaining a positive relationship with your primary care provider is essential when dealing with digestive issues. Regular check-ins with them during your healing journey are highly recommended.
For today, kickstarting healthy eating habits can make a significant difference. Some of these habits include establishing regular eating patterns, savoring your meals in a relaxed setting, chewing food thoroughly, disconnecting from electronic distractions, and cultivating gratitude for the nourishment you're about to enjoy.
I encourage you to give this delicious soup a try. I would have been very grateful to have it during my own struggles, and I'm pleased to share it with you now.
Gut Healing Chicken Soup
Ingredients
1 lb Boneless skinless chicken thighs cubed, remove most fat
2 Tbsp olive oil + 1 tsp to drizzle
1 Tbsp fresh ginger root peeled + grated 
1 tsp turmeric powder
1/2 tsp pepper
1 tsp dried thyme
1 tsp cumin seeds
1/4 tsp cayenne (optional)
1/2 cup brown rice
1 large tomato cubed
2 large carrots chopped into 1/2 moon
1  cup sweet potato, cubed
1  cup medium white potato, cubed
1 large bell pepper, cubed 
1 cup of the white parts of bok choy
1/2 cup radish, sliced
6 cups water
1 bay leaf
1 tsp sea salt
2 Tbsp Apple Cider Vinegar
1 cup bok choy greens
1 cup parsley
1 cup cilantro
1/2 lemon juice
1tsp lemon zest
Directions
1. Heat 1 tsp of olive oil in a large pot or Dutch oven over medium heat for about 1 minute.
2. Add the following spices: pepper, thyme, ginger, turmeric, cumin seed, and optional cayenne. Then, add the brown rice. Stir the mixture until it becomes fragrant, which should take approximately 3 minutes. Reduce the heat to medium-low.
3. Incorporate the chicken into the mixture and stir well. Next, add the tomato, carrots, sweet potato, white potato, bell pepper, white parts of bok choy, and radish to the herbs and spices. Mix everything thoroughly.
4. Pour in water. Add the bay leaf, salt, and apple cider vinegar. Increase the heat to medium-high, cover the pot, and bring it to a boil.
5. Once boiling, reduce the heat to low and let the soup simmer for 30 minutes or until the chicken and vegetables are fully cooked.
6. Remove the pot from heat. Add the bok choy greens, parsley, cilantro, lemon juice, and lemon zest. Set aside a small amount of parsley for garnish. Cover the pot and let it sit for 5 minutes.
7. Remove the bay leaf and drizzle the remaining 1 tsp of olive oil. Give the soup a final stir.
8. Serve the soup in bowls and garnish each serving with a small amount of parsley. Enjoy!
Katrina originally comes from New Hampshire but has called the Charleston, SC, area home since 1998. She wears many hats, including being a wife, mother, sister, daughter, friend, and devoted animal lover. Katrina finds solace and inspiration in nature and has a deep-seated passion for health and wellness. She is committed to continual learning, aiming to become an expert in her field and sharing her knowledge with you! To delve deeper into Katrina's story, click here.
If you're curious about Health Coaching or Functional Diagnostic Nutrition® (FDN), you're in the right place. Functional Diagnostic Nutrition® and the DRESS for Health Success® Program have positively impacted countless individuals. To discover more, schedule a complimentary call today.
---
Disclaimer: The information provided is for general informational purposes only and should not be considered a substitute for professional medical advice. Always consult with a qualified healthcare provider for medical guidance and assistance tailored to your specific needs.
---
References
Saha, Lekha. "Irritable bowel syndrome: pathogenesis, diagnosis, treatment, and evidence-based medicine." World Journal of Gastroenterology vol. 20,22 (2014): 6759-73. doi:10.3748/ wjg.v20.i22.6759 
"Irritable Bowel Syndrome – Symptoms and Causes." Mayo Clinic, 2 Nov. 2022, www.mayoclinic.org/diseases-conditions/irritable-bowel-syndrome/symptoms-causes/ syc-20360016
Lungs, Breathing And Allergy Team. "Food Allergy Vs. Intolerance: What's the Difference?" Cleveland Clinic, 18 Nov. 2022, health.clevelandclinic.org/allergy-or-intolerance-how-to-tell-the-difference
"Keep a Food Diary to Identify Food Triggers." Verywell Health, 7 Dec. 2020, www.verywellhealth.com/how-to-keep-a-food-diary-1945006. 
Yetman, Daniel. "Can You Use Ginger to Treat IBS Symptoms?" Healthline, 22 July 2021, www.healthline.com/health/ibs/ginger-for-ibs
Sante, Casa de. "Is Bok Choy Low FODMAP?" Casa De Sante, 18 June 2021, casadesante.com/blogs/low-fodmap-life/is-bok-choy-low-fodmap
Gupta, Shreya. "Get in a Relationship with Radishes This Winter to Reap These 4 Health Benefits." Healthshots, 11 Apr. 2022, https://www.healthshots.com/healthy-eating/superfoods/radish-nutrition-4-benefits-of-radish-you-cant-ignore/
Kahn, Sara M. "Why Fat Is SO Important on a Gut-Healing Diet for IBS, SIBO and IBD." Belly Bliss Nutrition, 30 Sept. 2020, sarakahnnutrition.com/tips/2019/03/10/fat-and-diet-for-ibs-sibo- ibd 
Cherney, Kristeen. "What Types of Sugar Trigger IBS Symptoms?" Healthline, 26 Mar. 2020, www.healthline.com/health/ibs-and-sugar. 
Digestive Health Team. "The Best and Worst Foods for IBS." Cleveland Clinic, 25 Oct. 2022, health.clevelandclinic.org/take-control-of-ibs-with-low-fodmap-diet
Digestive Health Team. "The Best and Worst Foods for IBS." Cleveland Clinic, 25 Oct. 2022, health.clevelandclinic.org/take-control-of-ibs-with-low-fodmap-diet
Saadati S, Sadeghi A, Mohaghegh-Shalmani H, Rostami-Nejad M, Elli L, Asadzadeh-Aghdaei H, Rodrigo L, Zali MR. Effects of a gluten challenge in patients with irritable bowel syndrome: a randomized single-blind controlled clinical trial. Sci Rep. 2022 Mar 23;12(1):4960. doi: 10.1038/ s41598-022-09055-6. PMID: 35322144; PMCID: PMC8943127 
"The Best and Worst Foods to Eat When You Have IBS." Lompoc Valley Medical Center, 10 Oct. 2022, lompocvmc.com/blog/2014-the-best-and-worst-foods-to-eat-when-you-have-ibs
Rodriguez, Tori, MA. "Expert Q&A: Low-FODMAP Diet Risky in Patients With Eating Disorders." Gastroenterology Advisor, 22 Sept. 2022, www.gastroenterologyadvisor.com/irritable-bowel-syndrome-ibs/expert-qa-low-fodmap-diet-risky-in-patients-with-eating-disorders.