Check out some of my favorites!
---
I started meditating during yoga classes when I was 16 but really I was meditating long before that. As a child, I spent a lot of time playing in nature and I just loved the feel of being in the woods. We often had a houseful with my siblings and cousins so the woods were like my sanctuary. I'd run and jump off large rocks catching a small tree that would bend and take me to the ground. I'd hop from rock to rock upstreams to find the source. I'd get off the school bus and walk straight into the woods, up the mountain trying to guess where my house might be, then heading straight down sometimes I'd hit the mark, sometimes not. I'd even spend hours in the woods when there was a foot of snow. I'd pat the snow down and build it up around the edges making a cozy place to rest. After all my running, jumping, and climbing, I would be still and just listen to the sounds, breathing in and out… I was meditating! It was lovely! As a busy adult, I'm not able to spend as much time in nature as I would like. I have continued to meditate in yoga classes and at home but not on a regular basis until now! I just completed the ZivaOnline program and am excited to share my experience with you! Each morning I was excited to open my email and head on over to ZivaOnline to hear my daily lesson and practice Mindfulness, Meditation, and Manifesting – the 3 M's. With the 3 M's I found it easy to release the stress in my present moment, stimulate the parasympathetic nervous system to rest and restore (Emily says this part helps to rid stress from your past), and also tap into the right, creative side of my brain. My sleep has improved, I'm calm, well-rested, and excited about this new-found creative spark. If you don't think you have time to meditate, after this training you'll realize you don't have time to NOT meditate! I love the Ziva Technique and Emily Fletcher is so much fun!
---
The MuTu System is not just for new moms! My youngest is 16 years old and I've been trying for 16 years to get rid of what I call my baby belly! I tried to just love it like my yoga teacher told me I should… Before finding MuTu I decided that the only way I could fix it is with a tummy tuck and was not keen on that idea. I've been doing Mutu for 3 weeks now out of the comforts of my home. The exercises are short so you don't need to spend hours working out and they start off gentle to help you build up strength and stamina. The program is for 12 weeks but it's yours for life. Do a module a week or take your time if needed, make it a daily habit. There are food ideas, some recipes, articles on alignment and some great information on strengthening your pelvic floor. I've had all this info and I'm only on week 3! Maybe soon I won't need to cross my legs to sneeze anymore! Maybe that is too much information. Maybe women think that is normal at a certain stage of life or if you've had children. I've learned it's common, but not normal! Just click on the picture to learn more. Did I mention that the women teaching the courses has a lovely English accent? Somehow, it seems to make working out much easier.
---
Honest. Wild. Beautiful. I have been using Annmarie Skin Care for YEARS! What I put on my body is just as important to me as what I put in my body and that is why I love Annmarie (plus the entire line smells amazing)! Annmarie is all-natural, organic, wild-crafted and you can even pronounce all the ingredients on each product! I alternate between Citrus Mint Cleanser and the Kaolin Micro Exfoliant to wash my face. I then spritz on Neroli Toning Mist followed by Citrus Stem Cell Serum and then the Anti-Aging Facial Oil. If I have any red spots to hide I use Minerals Multi-Purpose foundation – buy a sample pack to see which color works best for you. It's so light and natural. While relaxing in the jacuzzi on the weekend I use the Purifying Mud Mask (I know, sounds too good to be true but I'm all about some self-love)! To top it all off, I use Radiant Skin Silk Body Lotion. I used to use the Coconut Body Oil and the Coconut Honey Mask but have recently learned I have a sensitivity to coconut…bummer! Click the picture above to learn more. You can try a sample kit for $10 and then get $10 off your first order. They always have great promotions too!
---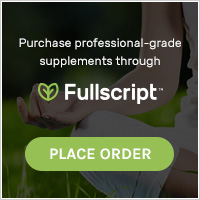 I once heard someone say that Fullscript is like the Amazon of supplements and I agree! If you are my client you will receive 25% off all the supplements you order from Fullscript! If you are not a client I'm still going to give you 10% off! The only thing you need to do to get professional-grade supplements delivered to your door click on the link above and create an account. If you can't find what you are looking for on Fullscript, check out Wellevate. They are very similar to Fullscipt but have a few different items.
---
*Some of the above links are affiliate links. This means that if you click on one of my links and purchase an item, I will receive a small affiliate commission at no cost to you. Please keep in mind that I only recommend products or services that I personally use and that I believe will add value to your life.